Sharad Sriwastawa joined Rakuten Mobile in 2018 and was appointed Chief Technology Officer in March 2022. How does he see the future of telecommunications in Japan and around the world?
How did you begin your career in the telecommunications industry?
It was an area of fascination for me. We didn't have wide penetration of landline phones when I grew up. Communication was a serious pain point. There were no mobiles and no internet during those days. That motivated me to not just study telecommunications as my major but also work in the telecom industry. I am fortunate that my first project was to build India's first mobile network. I remember making that very first mobile call in Mumbai back in 1995 using GSM technology. In fact, sometimes we used to jokingly refer to GSM as "God sent Mobiles" to make our lives easier.
Since then, I've traveled globally to work on various landmark projects within telecom. I was in Australia, then Thailand and other countries in Asia, Europe and later the United States. It was in the US that I met [Rakuten Mobile CEO] Tareq Amin. In 2018, I was invited to Japan for a job related to the preparations for Rakuten's new network. I fell in love with the country and the exciting challenge of building the world's first fully virtualized network*1. By the end of that summer, I moved here with my family to start my journey at Rakuten Mobile.
What were the challenges involved in building a network from scratch in Japan?
Being first to build something new is always a challenge. Building Rakuten Mobile's Open RAN-based mobile network, the first of its kind in the world, wasn't easy. Many people in the industry were skeptical and said it would be impossible, but that became our motivation and drove us to get it done. We brought in telco industry startups, and there were times when we had to make progress through trial and error. But it was the "get things done" spirit, one of the brand concepts of Rakuten Shugi, or our basic principles, that gave us the agility and flexibility of mindset to achieve our goal.
Rakuten Mobile's target of 96% population coverage for 4G*2 was originally set for 2026. How did you reach this milestone four years ahead of schedule?
There were multiple factors. One was the decision to utilize the power of Open RAN.
Traditional outdoor base stations feature a large number of components. By moving the baseband functions to data centers, Rakuten Mobile has been able to simplify and reduce the footprint of its base stations. This allows for greater freedom and flexibility in deployment, site acquisitions and significantly reduces construction and operations costs.
When I first started doing this kind of work, almost three decades ago, it took several days to build a base station site, then several more to commission it, and it also needed a team of skilled engineers. With Open RAN, now we can define the integration flow, due to the software-centric design, and with automation as an integral part of network deployment, base station deployment is much more like plug and play. It is like Wi-Fi – almost anybody can do it. Because we've integrated so many systems, it's now done in couple of hours, without needing to send a single engineer on-site.
We also leveraged the power of the Rakuten Group. The relationships formed with partners around Japan by Group companies like Rakuten Travel and Rakuten Card – they made site acquisition significantly easier.
You recently won another GLOMO award, this time for the "Best Network Software Breakthrough." *3 Does this validate Rakuten Mobile's choice of technology?
We won this award thanks to our unique and very flexible Open RAN platform, which allows us to architect, deploy and scale 5G efficiently. Since 5G is completely containerized and microservices-based, this is the foundation we built on from the start.
We are the first commercial carrier with so many subscribers on an Open RAN cloud native network, and I think this has given confidence to a lot of people in the industry worldwide that the technology works.
What kind of team do you lead at Rakuten Mobile?
It is a group of passionate people coming together, working towards a common goal, believing in each other to achieve something that almost everyone said was probably not achievable at all.
Our team at Rakuten is a unique group of people who are not afraid to take calculated risks, to challenge the traditional status quo, and to really venture into unexplored territories. I am very proud of our team and their achievements.
As an organization, we are committed to the development of our employees, and invest to provide them will the skills, motivation and opportunities to achieve their full potential.
What is it like for an engineer to come and work in Japan?
For a non-Japanese engineer, the language barrier can make Japan a very difficult country to work in. But that's not an issue at Rakuten since English has been adopted as the official corporate language. Most people can communicate in English. This is a huge advantage, not just for recruiting talented engineers globally, but for collaborating with global companies looking to do business here – there is no need for interpreters!
We have a diverse team from 70 different countries and regions working together to build this network. The diversity they bring to the table is a huge advantage in terms of innovation and ideas.
What upcoming technologies do you see transforming the telecommunications industry?
In Rakuten Mobile, we have significant focus on automation as a cornerstone that we have built upon utilizing AI and machine learning. Autonomous networks represent a natural extension of this and are another key focus area for the mid-term. We have the ambitious goal of creating a fully autonomous network. What does that mean? Basically, similar to driverless cars, the future could see the creation of an operation-less or technician-less network.
We are looking for answers to key questions like: How does a network perceive its performance, analyze the impact of different parameter configurations and act upon them to make changes to sustain, improve performance and mitigate issues in the network without human intervention where possible? How does a network perceive customer experience and improve it without human intervention? How do we use AI and machine learning in the process, to understand customer behavior and proactively look for things that could go wrong in the network, even on the hardware side?
Will these tech advancements make telecommunications more environmentally friendly?
Absolutely. There are many ways to reduce one's carbon footprint. Our approach to building base stations is one: Compare driving trucks to a site and building it over several days with simply taking a small unit, slightly larger than your Wi-Fi at home, and plugging it in.
Working on cutting-edge technology will allow us to improve power efficiency, but another major aspect is automation: Complete automation will bring so much more efficiency not just in terms of power consumption, but human efficiency as well, which directly translates into our net carbon footprint.
You hope to achieve 100% geographical coverage in Japan through LEO (low earth orbit) satellites. When will this become a reality?
We are making great progress on this. Our partners at AST SpaceMobile are launching more satellites. We are looking forward to testing it soon.
This technology could have great applications for our IoT services as well. There are so many exciting use cases for consumers and enterprise customers alike.
We're currently expanding population coverage of our mobile network in Japan, once AST gets through the trial phase, we could reach 100% terrestrial coverage – all of Japan's mountains, islands, everything. If this happens, Japan's newest network could overtake everyone to provide complete coverage. This has the potential to be a huge advantage for Rakuten Mobile.
*1 For a large scale commercial mobile network (as of October 1, 2019). Research: Stella Associa
*2 Night-time population coverage ratio by outdoor base stations. The population coverage ratio is calculated based on the number of the approx. 500m zones used in the national census which have area coverage of more than 50%
*3 GSMA Announces 2022 GLOMO Awards Winners: https://www.gsma.com/newsroom/press-release/gsma-announces-2022-glomo-awards-winners/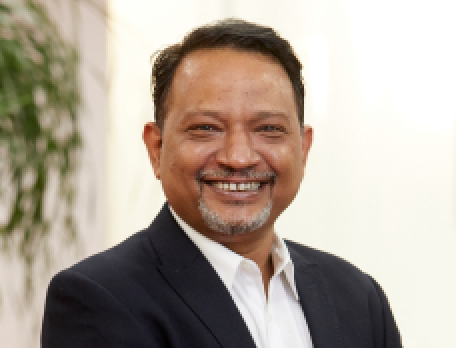 Chief Technology Officer of Rakuten Mobile
Sharad Sriwastawa
For more information about Rakuten Mobile's fully virtualized cloud native mobile network and other innovations,
please visit the Tech Innovation page.