Rakuten Mobile and Technical University of Munich launch Digital Network Twins Research
Tokyo, April 20, 2022 - Rakuten Mobile, Inc. today announced that it reached an agreement with Technical University of Munich (TUM) to collaborate on research into digital twins in networks. Based on the agreement, Rakuten Mobile will provide financial support to one Post-Doctoral researcher and two PhD students for a 42-month period and carry out collaborative research into digital twins and their applications in validating mobile networks.
Rakuten Mobile aims to create a fully autonomous network that uses an evolutionary-based approach for the creation, validation and application of logic within the network. This approach requires large amounts of data and a highly adaptive testing environment, neither of which is compatible with traditional methods of verification. However digital twins, which can be realized in a hybrid form by combining tools, such as simulations and testbeds, in order to exhibit features of an actual network, provide a compatible verification method for testing autonomous networks.
The research will be led by Rakuten Mobile Research Engineering Lead Leon Wong and TUM Professor Wolfgang Kellerer. The aim of the research is to study the concept of digital twins in networking and their relationship to simulations and real testbeds. In the collaborative research, Rakuten Mobile and TUM will explore methods to utilize digital twins to drive existing network testing environments towards being sufficiently ready for future network design demands as needed by autonomously evolving networks.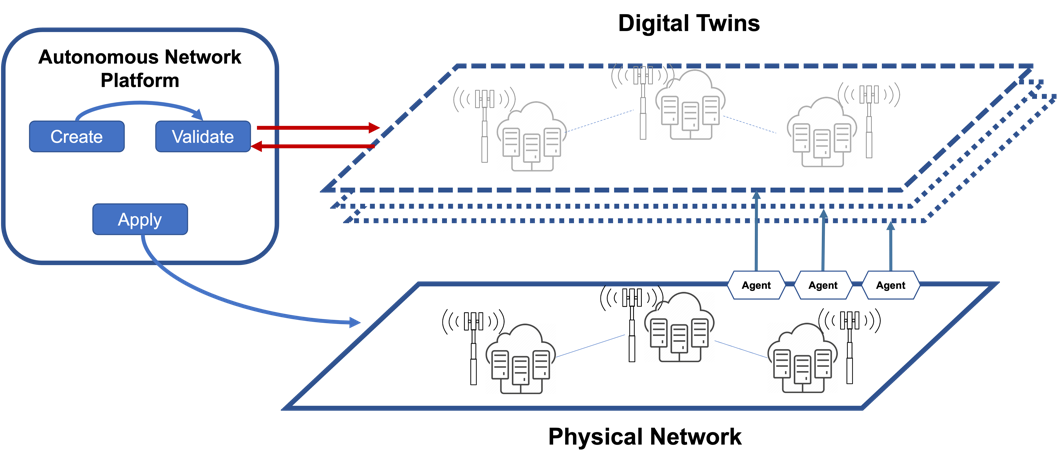 "Decision technologies have advanced significantly over the years," said Rakuten Mobile Global Head of AI and Autonomous Networks, Miro Salem. "We view digital twins as a fundamental requirement to achieve the validation of efficient and reliable networks in the future."
"In the future, networks will be operated with only minimum human interaction," said Prof. Wolfgang Kellerer, head of the Chair of Communication Networks in the Department of Electrical and Computer Engineering at TUM. "Digital Twins and new benchmarking concepts are expected to provide the basis for an autonomous network management and network adaptation to new situations."
About Rakuten Mobile
Rakuten Mobile, Inc. is a Rakuten Group company responsible for mobile communications. As the fourth entrant to the mobile carrier business in Japan, Rakuten Mobile aims to redefine industry expectations and provide simple and easy-to-use mobile services through its innovative network technology. For more information, please visit:
https://corp.mobile.rakuten.co.jp/english/
About the Technical University of Munich
The Technical University of Munich (TUM) is one of Europe's leading research universities, with more than 600 professors, 48,000 students, and 11,000 academic and non-academic staff. Its focus areas are the engineering sciences, natural sciences, life sciences and medicine, combined with economic and social sciences. TUM acts as an entrepreneurial university that promotes talents and creates value for society. In that it profits from having strong partners in science and industry. It is represented worldwide with the TUM Asia campus in Singapore as well as offices in Beijing, Brussels, Mumbai, San Francisco, and São Paulo. Nobel Prize winners and inventors such as Rudolf Diesel, Carl von Linde, and Rudolf Mößbauer have done research at TUM. In 2006, 2012, and 2019 it won recognition as a German "Excellence University." In international rankings, TUM regularly places among the best universities in Germany.
*Please note that the information contained in press releases is current as of the date of release.