Rakuten Mobile Surpasses 5 Million Mobile Carrier Service Subscribers
Tokyo, August 28, 2023 – Rakuten Mobile, Inc. today announced that the number of subscribers for its mobile carrier service has surpassed 5 million as of August 28, 2023*1.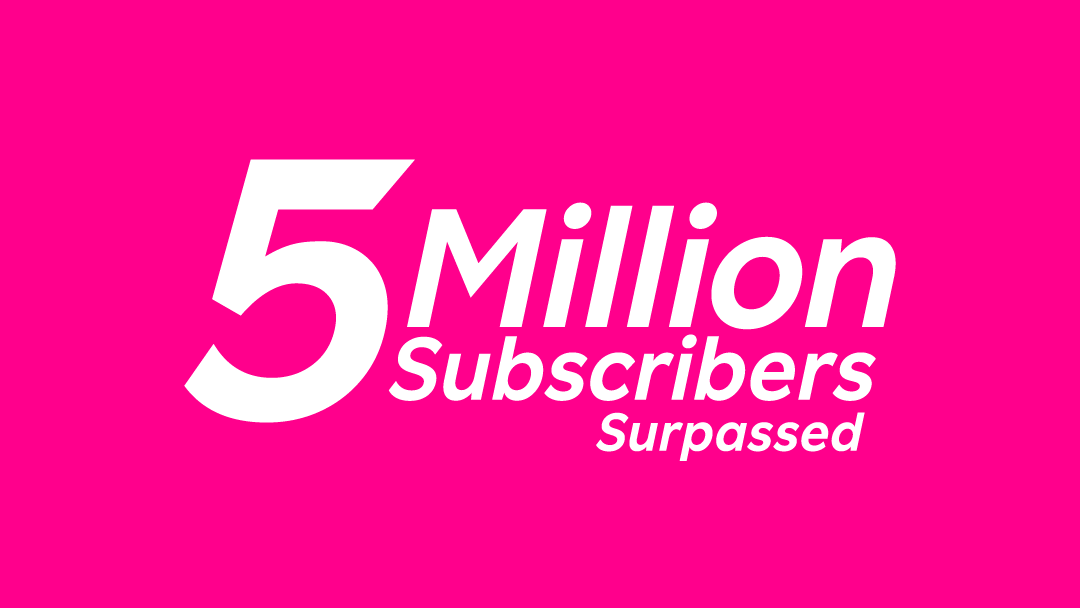 Since the full-scale launch of its mobile carrier service in April 2020, Rakuten Mobile has continued on its mission to democratize the mobile industry, offering an affordable and simple service plan while expanding the Rakuten network area through the build-out of base stations and roaming agreements. Since January of this year, Rakuten Mobile has also offered simple-to-use service plans for business customers through the Rakuten Mobile Business Plan, as the company takes its mission to the corporate mobile industry.

In addition, the company has focused on expanding its range of services in order to enhance the customer experience. These initiatives include the Rakuten SAIKYO Plan (Data Type), which allows customers to start using the service in as little as three minutes, and the introduction of the Mobile Number Portability (MNP) One-Stop system that eliminates the need for customers to issue their own MNP reservation number when switching mobile phone carriers*2*3.
The Rakuten SAIKYO Plan – available since June 2023 – does away with the previous limit on high-speed data capacity in the domestic roaming partner network area, offering unlimited high-speed data usage in network areas nationwide with a 99.9% 4G population coverage ratio*4, including both the Rakuten network area and the domestic roaming partner network area*5.
As with the previous Rakuten UN-LIMIT VII plan, it features a simple fee structure that flexibly adjusts in line with data usage. Monthly plan fees range from 980 yen (1,078 yen including tax) for monthly data usage of up to 3GB, 1,980 yen (2,178 yen including tax) for usage of more than 3GB and up to 20GB, and 2,980 yen (3,278 yen including tax) for unlimited usage over 20GB. In addition, with the Rakuten Link app available exclusively to plan subscribers, users can make domestic calls and send and receive SMS messages for free*6. With the launch of the beta version of Rakuten Link Desktop, customers can also enjoy select Rakuten Link features on their personal computer from August 2023.
Rakuten Mobile will continue its efforts to improve the quality of communication it provides and expand its range of services so that customers can enjoy comfortable and convenient communication services anywhere.
Notes
*1 The number includes both Rakuten SAIKYO Plan and Rakuten Mobile Business Plan subscribers.
*2 MNP One-Stop is a system that allows mobile phone users to switch mobile phone carriers without changing their phone number.
*3 Rakuten SAIKYO Plan (Data Type) customers can only use data. Calls are not available.
*4 The population coverage ratio is calculated based on the number of the approximately 500m zones used in the national census in which communication is possible in more than 50% of the area covered.
*5 To provide services fairly, restrictions on transmission speed may be implemented. Additionally, transmission speeds may slow depending on the environment in use at the time.
*6 Does not apply to phone numbers for connection services provided by other companies that start with 0570 and some hotline numbers (188). Please check the list of numbers below. Calls cost 22 yen per 30 seconds when not using the app (includes tax). https://network.mobile.rakuten.co.jp/faq/detail/00001887/ (*Japanese page)

*Product names and service names published in this press release are generally trademarks or registered trademarks of their respective companies. Trademarks such as TM and ® may be omitted when trademarks are listed in this press release.
---
*Please note that the information contained in press releases is current as of the date of release.