Rakuten Mobile, Nagoya University and OKI to begin Autonomous Networks Research and Development for Autonomous Mobile Services
- Research selected by National Institute of Information and Communications Technology's Beyond 5G R&D Promotion Project
Tokyo, November 8, 2021 - Rakuten Mobile, Inc., Nagoya University and Oki Electric Industry Co., Ltd. (OKI) today announced the launch of research and development (R&D) into autonomous networks to enable autonomous mobile services. The R&D will be carried out as part of the "Beyond 5G R&D Promotion Project" for which the National Institute of Information and Communications Technology (NICT) recently invited applications for proposals. The R&D will be carried out under the theme of "R&D into coordinated type autonomous networks." The organizations will carry out R&D into autonomous network key technologies that allow networks to autonomously respond to communications service requests and coordinate various services while operating stably (coordinated type autonomous networks).
"Beyond 5G" refers to the next generation of communications standards to follow 5G, which is expected to be deployed after 2030. In Beyond 5G, communications technology will be utilized in every aspect of life. As a result, network traffic is expected to increase dramatically and demands for networks are expected to diversify. To support the increasing traffic and new demands, it will become necessary for networks to be able to respond autonomously without human intervention.
Autonomous networks are mobile networks that incorporate into the network systems artificial intelligence (AI) which is capable of managing networks in the same way as human engineers do. This will enable networks to manage all operations independently and to autonomously respond to diversifying network demands.
In this R&D, Rakuten Mobile, Nagoya University and OKI aim to build the key technologies and practical applications for autonomous networks to further automate network operations. The three organizations will develop an autonomous mobile robot that can move while adapting to its surrounding environment through linkage to autonomous network key technologies. The organizations also aim to create efficient video streaming and IoT services using the autonomous mobile robot.
Details of the R&D
Research theme: R&D into coordinated type autonomous networks
Research Period: October 2021 to the end of March 2025 (planned)
Overview: In the R&D, the organizations will develop coordinated type autonomous network key technologies which will be linked to autonomous mobile robots with the aim of creating efficient video streaming and IoT services. When streaming video content, the content recorded by the autonomous mobile robot will be stored and delivered to other devices and servers through efficient two-way content streaming (two-way CDN*1 control).
The three organizations will carry out the following R&D towards developing the fundamental technologies and applications:
Rakuten Mobile will carry out R&D into mobile networks that can autonomously respond to diverse service requirements, including CDN and autonomous mobile robots

.

Nagoya University will carry out R&D into autonomous mobile robots with modules necessary for autonomous movement and service modules, such as cameras, mics, speakers, displays, robot hands, and video recording discs, that can carry out requests

for bandwidth and other services

to the network as necessary.
OKI will carry out R&D into two-way CDN control on the autonomous network for sending and receiving high quality video to and from the autonomous mobile robots and mobile devices, etc., over the autonomous network.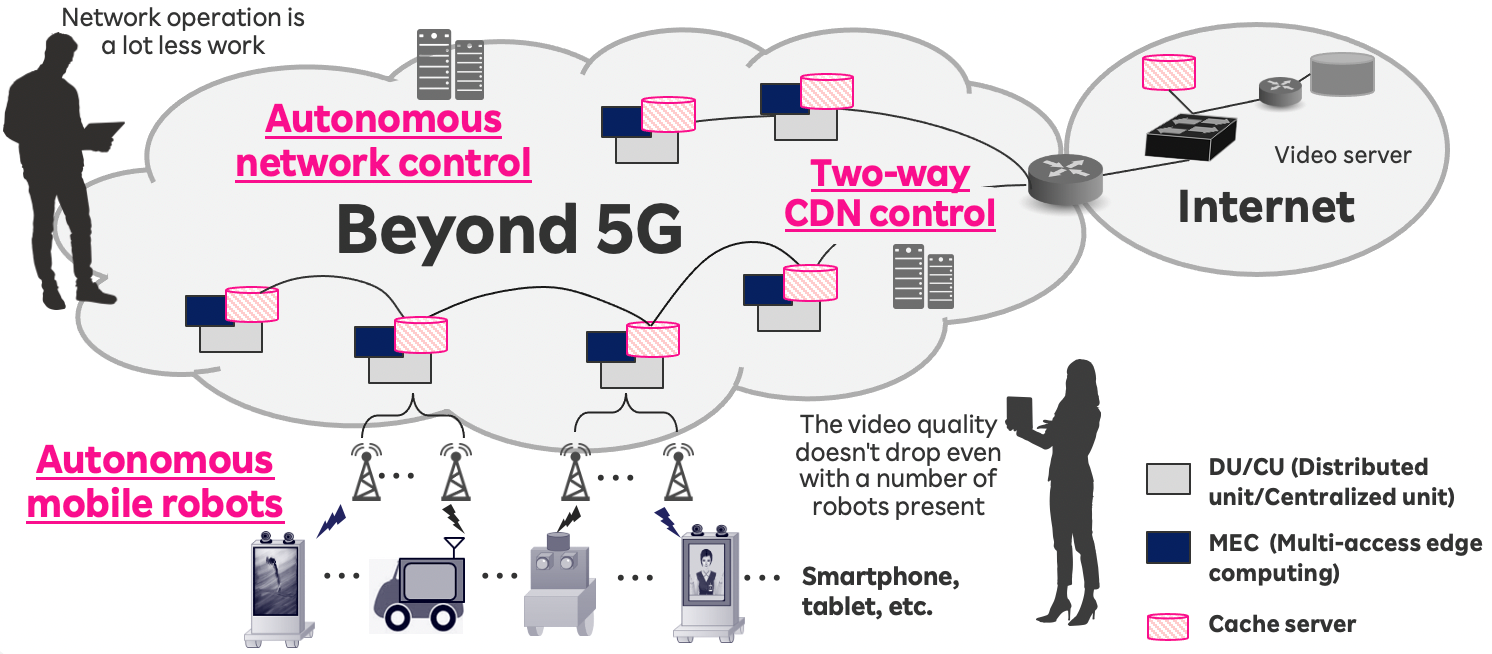 Through this R&D, Rakuten Mobile, Nagoya University and OKI aim to create new user experiences using autonomous networks and autonomous mobile robots and contribute to the development of communications technologies necessary for increasing Japan's international competitiveness and the realization of new services for Beyond 5G.
*1 A Content Delivery Network (CDN) refers to an optimized network equipped with cache servers to store content in order to efficiently stream large amounts of digital content.

* The company names, product and service names in this press release are the trademarks or registered trademarks of their respective owners.
---
*Please note that the information contained in press releases is current as of the date of release.